The programme offers a total of 17 courses, of which five are mandatory. In addition to this, students have access to any one of Chalmers' courses to which they fulfill the prerequisites.
MANDATORY COURSES (60 credits)
Methodology in Interaction Design, 7,5 hec (1st year): This course introduces basic design methodology in interaction design with focus on design issues related to user experience and aesthetics.
Prototyping in interaction design, 7,5 hec (1st year): This course provides a clear understanding of the use and idea of prototyping in Interaction design, as well as skills in creating prototypes at different levels of fidelity using appropriate tools and technologies.
Graphical Interfaces, 7,5 hec (1st year): In this course, students learn how to design a relatively complex graphic user interface, being able to provide a valid design rationale for it.
Interaction design project, 7,5 hec (2nd year): The course aims at a deepened understanding of the central design issues in interaction design by means of practical training in design projects.
Master's Thesis, 30 hec (2nd year): The purpose of a thesis is to enable the student to develop deeper knowledge, understanding, capabilities and attitudes in the context of the programme of study. The thesis should be written at the end of the programme and offers the opportunity to delve more deeply into and synthesise knowledge acquired in previous studies.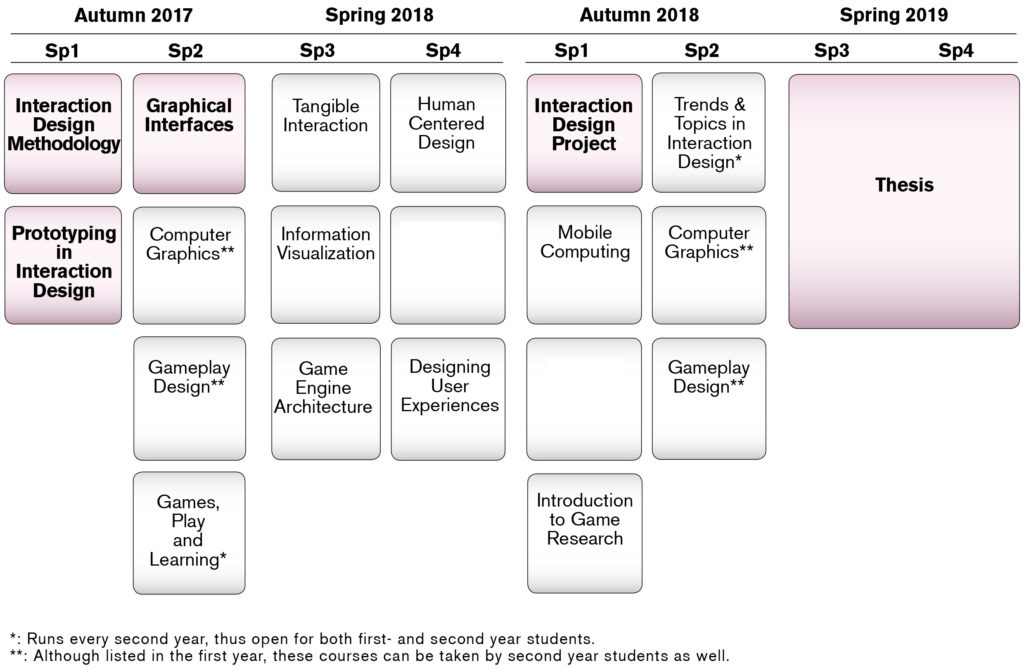 ELECTIVE COURSES (30-60 credits)
Advanced Computer Graphics, 7.5 hec
Computer Graphics, 7.5 hec
Designing User Experiences, 7.5 hec
Design of Children's Technology, 7.5 hec
Emerging Trends and Topics in Interaction Design, 7.5 hec
Game Engine Architecture, 7.5 hec
Gameplay Design, 7.5 hec
Human-Centered Design, 7.5 hec
Information Visualization, 7.5 hec
Mobile Computing, 7.5 hec
Tangible Interaction, 7.5 hec
Understanding Users and Use, 7.5 hec
Read the full syllabus and check out schedule and course details at Chalmer's own Student Portal.